It's a reality TV producer's dream: two acid-tongued contestants mouth-off at other competitors, only to crumble when it's their turn to impress the judges.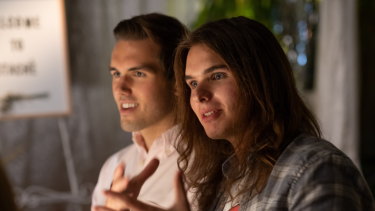 MKR's Josh and Austin have ruffled viewers' feathers.Credit:Network Seven
Josh added that he doesn't mind that other teams "loved" the idea of him floundering in the kitchen. In past episodes, he and his brother have said two other contestants looked like "mail-order brides," while they described another rival as a "sassy, plastic chick".
"I'm no dickhead," Josh said. "I know if I give something to someone, I expect it back. It's not fair to you if I'm honest to you, but you're not allowed to be honest with me. So I knew they had every right to be 100 per cent honest. That's the way it is."
Austin said the one good thing to come from the episode is he now knows not to cram so much meat onto the one tray next time he cooks for several people.
"I kept opening [the oven door] and letting the heat out," he said. "Going, 'Oh, is it ready? Is it ready? How about now?' We had two other barbecues there, hot, ready to go. We could have put them in two trays and two barbecues and it could have just taken 15 to 20 minutes."
The pair will find out whether they stay in the competition after Monday night's elimination cook-off against WA-based contestants Karito and Ian. But Josh hinted reality TV lovers haven't seen the last of him.
"We bite everyone who bites us," he said. "And we succeed."
My Kitchen Rules airs on Network Seven on Sundays through to Wednesdays at 7pm.
Nine is the owner of this masthead. 
Source: Read Full Article